Data Centers
Montana: World's Premier Data Center Location 
Montana is well known for its spectacular unspoiled nature, access to world-class outdoor recreation, and pristine air and water. Still, Montana offers far more than an exceptional quality of life. These resources contribute to an ideal location for large data center development. Paired with access to the lowest market power rates in the country and an outstanding tax incentive package for building large data centers, Montana is one of the premier data center locations on the planet.
TAX INCENTIVES
Class 17 Property tax classification for qualifying data centers:  25,000 square feet of new or expanded area, where the total cost of land, improvements, personal property, and software is at least $50 million invested during a 48-month period with construction commencing after January 1, 2019.
POWER
Montana's power resources, water and climate are ideal for large data center development. Montana is a choice customer state. Consumers that use 5 megawatts or greater have the right to purchase their electricity from any power provider of their choosing. Montana is home to some of the best renewable generation in the country. In-state hydroelectricity and wind generation are available for power purchase contracts at competitive market rates. Renewable energy development projects are also available.
WATER
As the headwater region of the continent, the State of Montana is an ideal place for data center development. The state has identified the best sites for data center development. All sites have ample water supply and can provide volumes needed for cooling large data centers. Water conservation is encouraged across industries in Montana. Montana's cool, dry climate is ideal for air cooling operations of data centers.
CLIMATE
Montana is home to one of the most stable four-season climates in the country. Average daytime temperatures vary from 28° F (-2° C) in January to 84.5° F (29.2° C) in July. Montana has a dry, semi-arid desert climate which makes it an ideal atmosphere to utilize air-cooling.
Montana's climate and geology provides a safe, cost-effective environment for data storage. The state's benign environment carries a very low risk factor for natural disasters and catastrophic events. This operating environment helps to ensure uninterrupted data center operations year-round.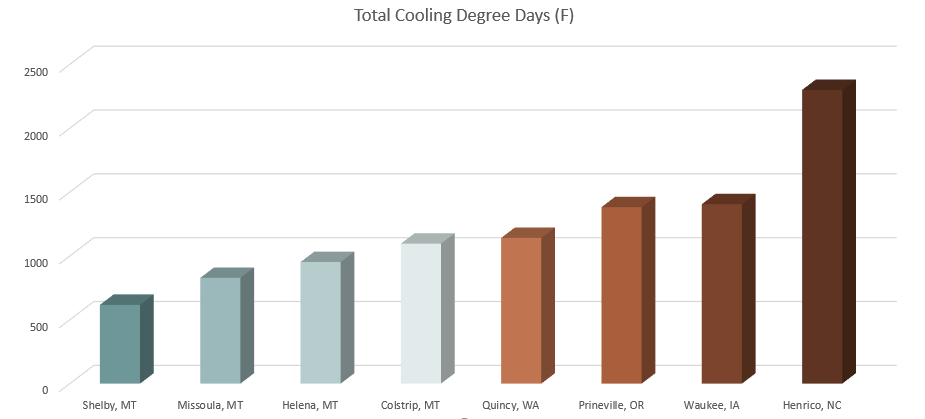 MONTANA TAX CLIMATE AND INCENTIVES FOR DATA CENTER DEVELOPMENT & OPERATIONS
The 2019 Montana Legislature revised the tax classification for certain qualifying data centers. Developed initially in 2017 by the Montana Department of Commerce after discussion with industry leaders, this 2019 amended law expanded the definition for qualifying data centers giving more data center developers certainty in how these properties will be assessed.
Montana's data center property tax classification – Class 17, defined
A "Qualified data center" means the land, improvements, and personal property of a facility designed or modified to house networked computers or equipment supporting computing, networking, or data storage that is: composed of one or more buildings under single ownership on contiguous parcels of land that consist of at least: 300,000 square feet, where the total cost of land, improvements, personal property, and software is at least $150 million; and commences construction after June 30, 2017; or 25,000 square feet of new or expanded area, where the total cost of land, improvements, personal property, and software is at least $50 million invested during a 48-month period with construction commencing after January 1, 2019.
IMPROVED TAX ABATEMENT 
Data centers' property tax liability may be reduced by 75% or 50% of their taxable value in the first five years after a construction permit is issued. Each year thereafter, the percentage must increase by equal percentages until the full taxable value is attained in the tenth year. Tax abatements must be approved by the corresponding county jurisdiction.
A local option property tax abatement can greatly reduce a company's local tax burden over a ten-year period. State tax liability is not reduced by the local option abatement. Using the development assumptions for a Class 17 data center from above we can estimate property tax savings as a result of the local option abatement. 

These figures do not account for depreciation, may vary slightly by levy district, and are only estimates as provided by the Montana Department of Commerce.
Industry Analysis Report
The 
Data Center Industry Analysis report
 analyzes Montana's current data center industry assets and the state's ability to further develop this growing industry. Our Regions businesses are following market trends and have been using or plan to use third parties service providers for more of their IT compute and data storage needs. Many SMB's find cloud offerings and help from Managed Service Providers to be a cost effective way to conduct business while keeping IT spending in check. Midlevel Enterprises understand the benefits of collocating their IT Environments to be more cost effective while mitigating risk and to provide better service as opposed to in-house operations. In Montana, there are a surprising number of businesses currently using out of state data management services; they were either in need of these services some time ago or simply were not aware of our ability to service their needs in state. These businesses provide a strong market for data centers, cloud providers and technical services within the state. Some businesses however, are not yet comfortable having their hardware, IT personnel, and data off-site, This market is sure to increase as business owners gain trust in local service providers; this report outlines avenues to encourage such in-state development.
Montana's climate is low risk for natural disasters and other hazards and has a favorable tax environment. This makes Montana a feasible location for large, single tenant data centers. Companies that generate vast amounts of data have the need to build very large, efficient data centers. While Montana has some qualities that are attractive (no sales tax, available land, etc.) to these types of developments, the industry has also identified some weaknesses (lack of data management trained workforce, etc.) that the state must work to overcome in order to be a top competitor for these large installations. This report outlines possible avenues to increase the state's attractiveness to data center development.
This 
report
 provides a basic analysis of the data center industry and its potential for growth in the state. The information gathered here is intended to allow the Governor, the Chief Business Development Officer, and the Director of the Department of Commerce to determine which state efforts should be pursued to expand this industry in the State of Montana.